Soap Challenge — Holly Swirl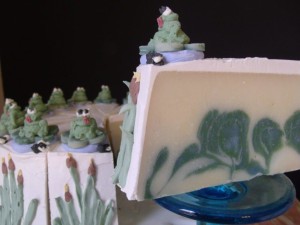 I decided to post a link for my entry in this month's Soap Challenge.  This month's theme was the Holly Swirl, also known as the swirl in a swirl.
Of course, I decided to create something a little different this month.   The scent I chose was Rockin the Stars by Nature's Garden, and it smells divine.  It's a mirror of Rock Star.  Of course, I've never smelled the original. My son liked it so much, he got the extras made into special bars for himself.
Instead of doing a traditional loaf soap, I opted to design one of my specialty cakes which after all is what I like designing best.  It was a toss up between blue and white or blue and green.  I decided I wanted to decorate the cake with little frogs, so blue and green wins.
I started with a base with no colorant.  After swirling the blue and green in the pot, in it goes into the cake mold which had already been filled with my natural soap.  I don't use any melt and pour soap.  All of my soaps are handmade and most of my cakes are made using hot process.  I don't have a lot of practice with cold process, although it seems I've been making more and more.  These challenges are always new for me.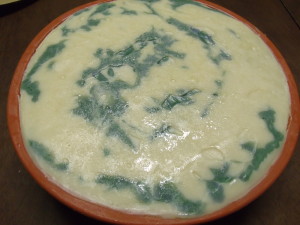 Next, it was time to prepare the lily pads.  So with the extra blue and green, a lily-pad-a-making I went.  I ended up making two sets.  After deciding the first attempt was too big, I had to make  them into smaller lily pads.  Easy fix.  (Remember those special bars of soap I made for my son? well, they are rebatched lily pads.)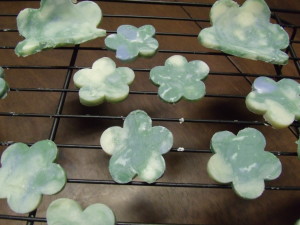 So now we wait. . . .and a day or two later, the cake was ready to frost.  So with a clean cake, I armed myself with plenty of colored soap frosting and put my novice piping skills to work.  I piped some soap frogs catching flies on a lily pad in a pond with cattails decorating the sides of the cake.  Very neat, but we still don't know what the inside looks like.  And since I just added a fresh layer of soap, that needs to set up a bit before cutting.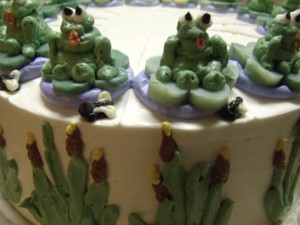 So now we wait some more.  And finally, days later, we can cut the cake and see if our Holly Swirl turned out.  I wish more of the blue would have shown up, but still turned out nice.  I'm super happy with the frogs.  Just need to clean up the edge a bit after cutting.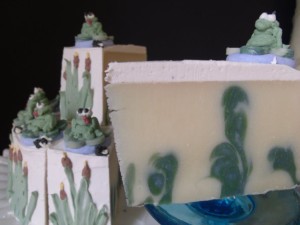 So here's the final cake.  So far it's one of my favorites.  I got 14 slices out of this cake each with its own unique swirl.  All in all, I'd say it turned out pretty good.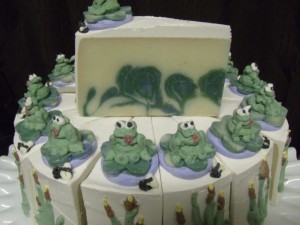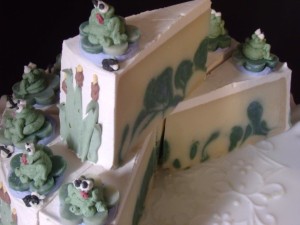 20 Responses to Soap Challenge — Holly Swirl