Petal Technique Soap Challenge — Curse of the Black Pearl
CURSE OF THE BLACK PEARL
It's been a while since I've done a soaping project, and this was long overdue.    My new Kitchenaid came this week, so I've been anxious to use it.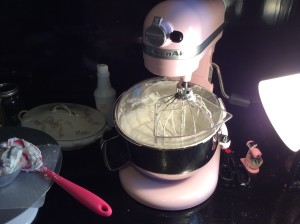 I kept coming across this "mold" in the thrift store, and I had been trying to figure out what exactly I could do with it.  Being silicone, I knew if I bought it, I could figure out a way to incorporate it into soaping.   So when this month's soap challenge was announced, I decided to put it to use.  I had also been wanting to create something that would appeal to a boy since so many of my designs are floral and feminine.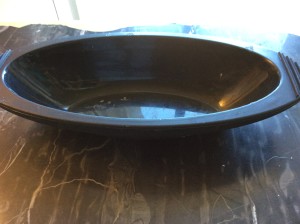 I decided on a pirate ship theme.  I thought creating The Black Pearl so close to Halloween would be the perfect theme.  Skeletons and Halloween go hand in hand.  I was able to find some cross bone molds, and I already had the skeleton molds that have been sitting unused since Halloween last year.  So off I was to make the embeds.
I am really pleased with the silver coloring, which is a mixture of BB pearly white mica and black oxide.  There was a post not too long ago on how to achieve the shimmer.  Unfortunately, I do not remember who the post came from and who to give credit to.  
Once the embeds were poured, I sculpted the cannon balls and cannons.  Once all the embeds were complete, it was time to pour the ship.   The mold worked out perfectly, although I wish it was slightly larger.
Since the challenge this month was to use the petal technique, I began the intricate texture on the ship.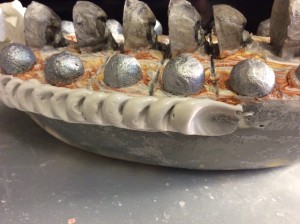 In hindsight, I should have started from the bottom up, as it was difficult to get into the small spaces without being able to lift the ship as the petals were still wet.  It would have been more logical to pipe blue, black, and grey and work my way around the ship in that pattern.  But it didn't occur to me to do that until after I was nearly finished.  Duh!  By the time I got to piping on the water, my soap was so soft and mushy, it was difficult to work with.  So although the water started out as petals, it ended up looking more like a blob.  I like using silicone piping bags because they are reusable, but I have to be careful.  The longer the soap is in the silicone, it tends to heat up.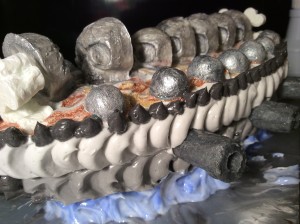 I really don't work with CP much, so I was a little disappointed when I cut into the ship.  My intention was to have the crossbones inside with black and white swirl.  The white swirl wasn't much of a swirl and discolored ever so slightly, and I never did get the dark black I was hoping for.  The scent I chose was Nature's Gardens "Stud".  But all in all, I'm pleased with the way it turned out.  Complete with cannons, cannon balls, and even a moon to make sure the pirates turn to skeletons.  

10 Responses to Petal Technique Soap Challenge — Curse of the Black Pearl