Small Victorian-Type Foral Centerpieces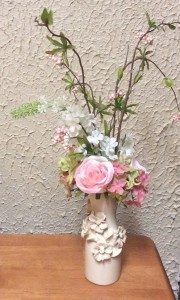 Beautiful shabby chic-type vases adorned with a vintage pink floral arrangement. Perfect for a small wedding, baby shower, or tea party.   Use as centerpieces on small tables or add as accent pieces to your display tables. The flower vase alone is 7" tall, and the flowers add several more inches to the overall height. Ten vases available.
Bonus value:  One teacup per two vases.