Mini Dessert Soap Challenge
I don't enter the Soap Challenge every month, but I cannot resist making soap cakes.  The theme this month was mini desserts.  Since I make a lot of soap cakes already, I opted for something a little different. This was a super fun project for me, and it was my first time working with soap fondant.  I thought I'd try my hand at mini princess soap cakes.
I like to HP my soap when I can, as I have had good experience with both fragrance and frosting sticking. The mini princess cake soaps were perfect to use up some of the sample fragrances I've been hanging on to. I chose a different scent for each princess: Pinot Grigio and Herbal Essence, both by Bramble Berry; White Peach Hibiscus by Aztec; and finally, Natures Garden Ginger.
Not only did each participant in the Challenge have to make a total of four different soaps, but the use of a food substance was to be incorporated. I'm afraid I didn't get very creative with my food source and simply made goat's milk soap. I just started incorporating DME into my soaps, and I have been very happy with the result. I have been gravitating away from the use of food as decorations because here in Florida, the food attracts ants. However, I did add some sprinkles to the mermaid. They just looked so much like little rocks that I couldn't resist.
Since the requirements were to make mini versions of real desserts, I had to get creative when it came time to picking a mold.  I am a silicone mold hoarder, so this was no difficult task. I'm a bit of a procrastinator and never did get around to making those Christmas tree soaps I had planned, so I was more happy to finally use my Wilton 3-D Christmas tree mold that has just kind of been hanging around for quite some time.
For this Challenge, I worked with three different soaps: HP, CP whipped, and melt and pour fondant. I had been gifted more melt and pour than one person could ever use in a lifetime, so I was happy to finally use it. Making these soaps was a multi-step project, so I jumped in right away and began hot processing. Once I made the bases for each princess, I let them sit overnight.
The following day I trimmed off the tops and bottoms of each Christmas tree for both uniformity and size. I didn't want the bases to grow too large after adding the piping.  Once cleaned up, I added the doll picks.  I hunted for the mini doll picks, but was only able to find them at one store.
The doll picks came in a package of four, and I made each into a princess based on hair color: Snow White with her poison apple; Cinderella getting ready for the ball with the help of fluttering butterflies; Belle and the enchanted rose; and, of course, Ariel with her vivid red locks atop a rock in the sea.
The blond probably gave me the most trouble.  She didn't want to stick. I bounced around a few ideas on what to do, even debating on a Frozen-themed princess.  I ultimately decided on Cinderella. Originally, I had planned on using all white. However, since I had to let the mess I made dry, I decided it was a good opportunity to try soap fondant.

Now, I'm no stranger to fondant. I'm not a professional cake decorator, but I have worked with fondant on just a couple of occasions.  I just had no idea it could be incorporated into soap making. Working with fondant — soap or food — is just like working with Play Doh. It feels the same, rolls the same, and sculpts the same. The possibilities are truly endless.
This is what I came up with for Cinderella. The bottom of her dress was piped with white, whipped, while the top layer and butterflies  were made from soap fondant.  She does seem to have Medusa hair though.
I tried to incorporate all three soaps into each princess. Both the light and dark yellows in Belle's dress were whipped and piped onto each base. The rose was hand-sculpted from the fondant. This was difficult because my fingers were just too big to sculpt these tiny props, and the soap was still a little too sticky.  Even though the rose is disproportionately the size of her head, I'm pretty happy with the result.
When working with Snow White, it was again difficult to sculpt such intricate pieces. The red and blue stripes in her sleeves is one thing that really popped out when I was looking at pictures. It's the little details that make these soaps special. Of course, she wouldn't be complete without her poison apple.
And finally, Ariel. She is by far my favorite and the most detailed. The moment I saw the doll's red hair, I knew I would turn her into a mermaid. The shells are made from CP soap I had left over from my ocean-themed cupcakes.  I added coral pieces and sprinkles that look like rocks. Her top is made from fondant. I used the same seashell molds I used for my cupcakes.  They were a little big, but worked in a pinch.
I have to say this is by far my most detailed project I have done to date. It was time consuming and was spanned out into several steps over several days. Of course, I can't sell these as they are Disney themed, but boy were these fun to make!
Petal Technique Soap Challenge — Curse of the Black Pearl
CURSE OF THE BLACK PEARL
It's been a while since I've done a soaping project, and this was long overdue.    My new Kitchenaid came this week, so I've been anxious to use it.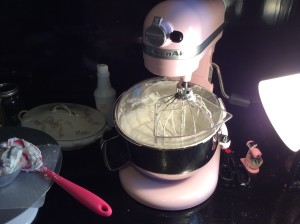 I kept coming across this "mold" in the thrift store, and I had been trying to figure out what exactly I could do with it.  Being silicone, I knew if I bought it, I could figure out a way to incorporate it into soaping.   So when this month's soap challenge was announced, I decided to put it to use.  I had also been wanting to create something that would appeal to a boy since so many of my designs are floral and feminine.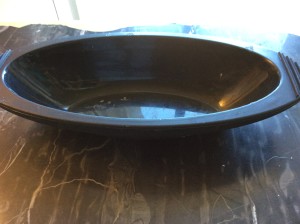 I decided on a pirate ship theme.  I thought creating The Black Pearl so close to Halloween would be the perfect theme.  Skeletons and Halloween go hand in hand.  I was able to find some cross bone molds, and I already had the skeleton molds that have been sitting unused since Halloween last year.  So off I was to make the embeds.
I am really pleased with the silver coloring, which is a mixture of BB pearly white mica and black oxide.  There was a post not too long ago on how to achieve the shimmer.  Unfortunately, I do not remember who the post came from and who to give credit to.  
Once the embeds were poured, I sculpted the cannon balls and cannons.  Once all the embeds were complete, it was time to pour the ship.   The mold worked out perfectly, although I wish it was slightly larger.
Since the challenge this month was to use the petal technique, I began the intricate texture on the ship.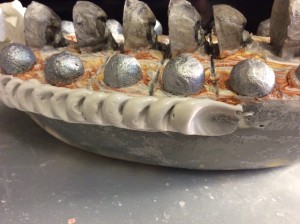 In hindsight, I should have started from the bottom up, as it was difficult to get into the small spaces without being able to lift the ship as the petals were still wet.  It would have been more logical to pipe blue, black, and grey and work my way around the ship in that pattern.  But it didn't occur to me to do that until after I was nearly finished.  Duh!  By the time I got to piping on the water, my soap was so soft and mushy, it was difficult to work with.  So although the water started out as petals, it ended up looking more like a blob.  I like using silicone piping bags because they are reusable, but I have to be careful.  The longer the soap is in the silicone, it tends to heat up.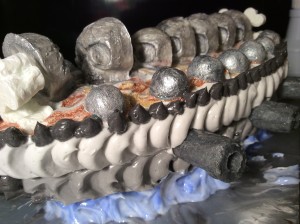 I really don't work with CP much, so I was a little disappointed when I cut into the ship.  My intention was to have the crossbones inside with black and white swirl.  The white swirl wasn't much of a swirl and discolored ever so slightly, and I never did get the dark black I was hoping for.  The scent I chose was Nature's Gardens "Stud".  But all in all, I'm pleased with the way it turned out.  Complete with cannons, cannon balls, and even a moon to make sure the pirates turn to skeletons.  

Soap Challenge — Holly Swirl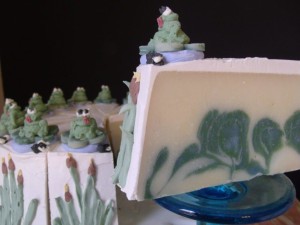 I decided to post a link for my entry in this month's Soap Challenge.  This month's theme was the Holly Swirl, also known as the swirl in a swirl.
Of course, I decided to create something a little different this month.   The scent I chose was Rockin the Stars by Nature's Garden, and it smells divine.  It's a mirror of Rock Star.  Of course, I've never smelled the original. My son liked it so much, he got the extras made into special bars for himself.
Instead of doing a traditional loaf soap, I opted to design one of my specialty cakes which after all is what I like designing best.  It was a toss up between blue and white or blue and green.  I decided I wanted to decorate the cake with little frogs, so blue and green wins.
I started with a base with no colorant.  After swirling the blue and green in the pot, in it goes into the cake mold which had already been filled with my natural soap.  I don't use any melt and pour soap.  All of my soaps are handmade and most of my cakes are made using hot process.  I don't have a lot of practice with cold process, although it seems I've been making more and more.  These challenges are always new for me.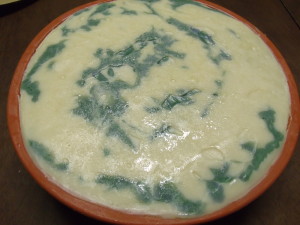 Next, it was time to prepare the lily pads.  So with the extra blue and green, a lily-pad-a-making I went.  I ended up making two sets.  After deciding the first attempt was too big, I had to make  them into smaller lily pads.  Easy fix.  (Remember those special bars of soap I made for my son? well, they are rebatched lily pads.)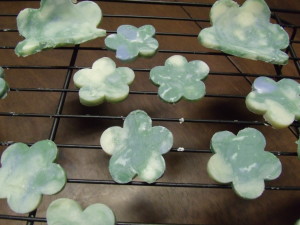 So now we wait. . . .and a day or two later, the cake was ready to frost.  So with a clean cake, I armed myself with plenty of colored soap frosting and put my novice piping skills to work.  I piped some soap frogs catching flies on a lily pad in a pond with cattails decorating the sides of the cake.  Very neat, but we still don't know what the inside looks like.  And since I just added a fresh layer of soap, that needs to set up a bit before cutting.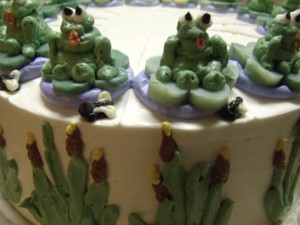 So now we wait some more.  And finally, days later, we can cut the cake and see if our Holly Swirl turned out.  I wish more of the blue would have shown up, but still turned out nice.  I'm super happy with the frogs.  Just need to clean up the edge a bit after cutting.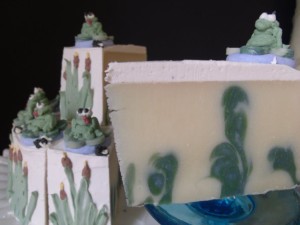 So here's the final cake.  So far it's one of my favorites.  I got 14 slices out of this cake each with its own unique swirl.  All in all, I'd say it turned out pretty good.